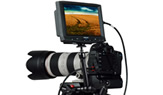 Delvcam HD7 HDMI Monitor Kit for Canon 5D MKII 7D T2i and 60D DSLR Cameras
Extreme Cost Effective
Confidence Monitoring!

Delvcam KPR-LCD Combo AJA KiPro 2RU Rack Mount with High Resolution LCD Monitor
Enhance Your AJA Ki-Pro With Advanced Monitoring Features!

Delvcam DELV-MLCD25L 2.5 Inch Composite Video Monitor with Looping Output
Very useful for environments where a small LCD is the answer.